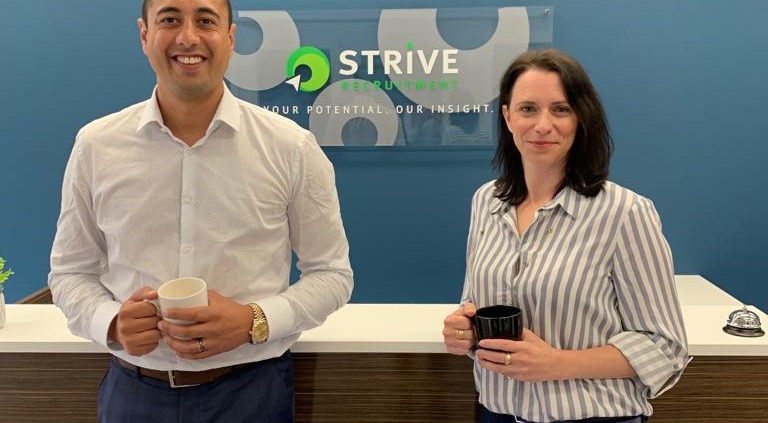 5 Secrets on How to Land your Dream Job at a Fortune 100 Company with Noga Zilberberg (Part 1 of 2)
Welcome to our series on Coffee with Leaders. Each quarter, we sit down with trailblazing leaders of the Canadian market to discuss issues relating to life in Corporate Canada.
Last week, our Managing Director at STRIVE, Michael Dha, called upon a longstanding client and now friend, Noga Zilberberg. Noga climbed the corporate ranks at McKesson Technology Solutions (now Change Healthcare), leading an extremely talented and high-performing team as the Executive Director of Finance. McKesson is 6th on the 2018 Fortune 500 list and one of the largest companies in North America with revenues over $200Bn. Noga has shifted gears in her career and now offers interview coaching consulting services through her company, Zilberberg Consulting Inc.
Michael and his STRIVE team started working with Noga in 2012. At that time, Noga was managing a small finance team at McKesson, which directly supported the executive team of the medical imaging business unit. Over the next 5 years, the needs of the business grew and so did the finance team. Noga's role as Manager catapulted to Executive Director, and with the help of her recruitment partners at STRIVE, her team quadrupled in size. However, this was no easy feat. Noga and the executive team at McKesson had very high expectations of all their staff. Despite having urgent hiring deadlines, Noga would not compromise on the quality of talent that she brought on to her team. So how did the candidates do it? What did they need to do to impress the interviewer and land their dream job?
In this next two-part series, Michael and Noga sit down to discuss Noga's experience at McKesson and Noga gives our audience 5 secrets on how to land a high-profile role at a Fortune 100 organization.
Michael:Noga, let's start at the beginning – how did you end up at McKesson?
Noga: This was back in January 2010. My youngest son was seven months old and I was well into my maternity leave. A recruiter I previously worked with had reached out to me suggesting that I interview for an interesting FP&A position with a large tech company. McKesson was very particular about the type of candidate they were looking for! After a few rounds of interviews, they determined I fit the bill and I was offered the role.
Michael: When you landed that first job with McKesson, did you think you would stay there for 8 years and progress as much as you have?
Noga: Well, I knew that working for McKesson, a 180-year-old international pharmaceutical and tech company, would be an amazing opportunity. Even my first role at McKesson was extremely challenging and rewarding. However, at the time, it was a much smaller finance team. I appreciated my manager's honesty when she warned me that there will be no room for growth. Despite that early warning, as the business unit grew and the team expanded, I was promoted four times. All these roles didn't even exist when I started working for McKesson. I am very happy I took that 'leap of faith' in 2010.
Michael: Throughout the years you have interviewed, assessed and hired many candidates for various levels. Can you share some advice on what it takes to land a job at a large company like McKesson?
Noga: First, it's important to understand that large, successful companies are in constant need of talented professionals, who are also good team players. On the flip side, the competition for those positions is undoubtedly fierce. Hiring managers are bombarded with candidates' resumes, even when they have no open positions. They can afford to be very selective and pick only the very best to join their teams.
Most managers, in any organization, are looking to hire the best candidates possible. However, from my experience, there are a few "skill set categories" that will be considered a must-have at these high-profile companies. I am not just talking about being the best at what you do professionally, or the obvious soft skills that most job postings mention, but rather that "secret sauce" that ensures great companies keep growing, attracting more investors, clients, positive public attention, brand recognition, and… more great employees.
Here are my top 5 skill set categories that will get you high-profile roles at high-profile companies:
#1 Common Sense and Maturity
Throughout your life, you are encountering increasingly complex and delicate situations, from how to speak with your college professors to managing your own finances, career and personal life. These experiences should build character, help you develop good judgment, and teach you the value of responsibility and accountability. Have they?
Do you have a good understanding of desirable behaviours in the corporate world? Can you demonstrate those behaviours consistently? Business etiquette includes anything from appropriate attire and good old manners to not sending a Facebook friend request to the Vice-President who has just interviewed you (and anything in between). These unwritten rules create a foundation for a comfortable work environment that encourages professionalism and cooperation.
To many people, the above sounds obvious. However, as the saying goes: "common sense is not so common", unfortunately. I wouldn't mention this if it wasn't so high on my priority list as a hiring manager. My teams and I worked directly with senior leaders in a multi-billion-dollar company. There was very little if any room for error when it came to the fundamentals of handling ourselves professionally, providing excellent customer service, and in general "doing the right thing".
That's why during interviews, I paid special attention to the subtext in candidates' stories and examples. Any case of placing blame on others or a lack of self-awareness, for example, was a big warning sign for lack of maturity. If the candidate's integrity or discretion was called into question during their interview, they would also, unfortunately, have their resume placed in the 'no' pile. This includes, for example, a management candidate who disclosed major upcoming layoffs at their current company during their interview.
If you are not convinced that a bit of "business gossip" should be grounds for a candidate's rejection, just imagine the potential damage, such lack of discretion can cause when putting the company's intellectual property (IP) in danger, exposing non-disclosed financial results that might impact investment decisions, and so on.
#2 Resourcefulness and Independent Thinking
High-profile companies are looking for talented people who can foresee & prevent, identify & resolve issues in their areas of responsibility, before those need to be escalated. They need employees who can get things done! These companies aspire to resolve big problems, positively impact millions of lives, and increase shareholders' value. For them, there is just not enough time in the day and not enough resources to dedicate to "handholding".
If you want to join high-profile companies, it would be in your best interest to demonstrate that you are a "low maintenance" resourceful employee, with regards to simpler tasks, and a thoughtful professional when it comes to the more complex assignments.
What does the term "low maintenance", resourceful employees actually mean?
These people are not easily taken back by moderate inconveniences, roadblocks or uncertainty. When possible, they just roll up their sleeves and find a solution. They do not expect anyone else to resolve the day-to-day obstacles we all face, not even their manager.
A resourceful team is a blessing for a manager and the entire company. This means managers can focus on the bigger picture, setting strategic directions, and solving the big problems – inside the company and for their customers.
Interviewers will sometimes attempt to examine resourcefulness and independent thinking (as well as innovative problem solving, discussed next, and other skills on this list) by asking "stress questions". These questions throw interviewees off-balance, challenge them to think on their feet and deal with situations of missing information. Some examples of "stress questions" include what would I find if I googled your name? or what would you do if you won $50 million yesterday?
I suggest mentally preparing in advance for these types of interview questions, especially when interviewing for high-profile roles in high-profile companies.
https://striverecruitment.ca/wp-content/uploads/IMG-20190828-WA0018.jpg
1024
768
Michael Dha
https://striverecruitment.ca/wp-content/uploads/Strive-Logo-Full.png
Michael Dha
2019-08-21 22:22:18
2023-08-10 15:04:52
5 Secrets on How to Land your Dream Job at a Fortune 100 Company with Noga Zilberberg (Part 1 of 2)