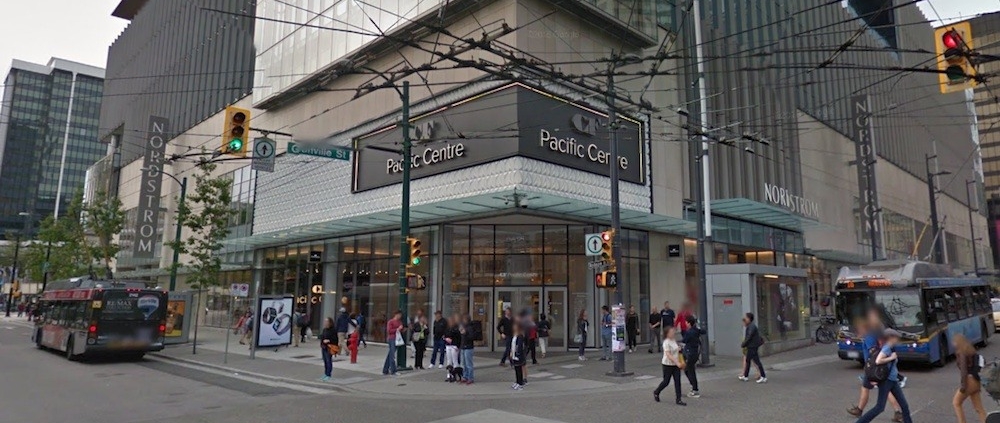 Cadillac Fairview sells half of its Vancouver properties, including Pacific Centre
One of Canada's largest commercial real estate management and development companies has sold a 50% interest in its Vancouver portfolio, which includes a major shopping centre and a number of office buildings.
Cadillac Fairview announced today that the Ontario Pension Board (OPB) and the Workplace Safety and Insurance Board (WSIB) now each own a 25% stake in the company's vast portfolio. The Toronto-based company retains ownership of the remaining 50%.
Altogether, this deal spans four million square feet of leasable space, including CF Pacific Centre shopping mall, the Waterfront Station building, and a dozen office towers in downtown Vancouver. Its largest and most valuable asset is Pacific Centre, which consists of not only the mall space but also the spaces occupied by Nordstrom, Holt Renfrew, office spaces for Microsoft and Sony Pictures Imageworks, and several adjoining office towers.
"This deal gives us the rare opportunity to gain direct exposure to the tightly held Vancouver real estate market. As the economic and financial centre for Western Canada and the primary access point to Asian markets, Vancouver is expected to outperform other major Canadian cities going forward," said Mark Fuller, President and CEO of the OPB, in a statement.
"It is also a great example of how asset pooling and scale help us gain direct access to high-quality assets that will help us generate strong returns over the long term."
Cadillac Fairview also has a joint-ownership partnership with the OPB four major properties in downtown Toronto, including RBC Centre, Toronto-Dominion Centre, and two development properties at 16 York Street & 160 Front Street West.
Here is Cadillac Fairview's portfolio in Vancouver:
CF Pacific Centre (701 West Georgia)
Waterfront Centre (200 Burrard Street)
725 Granville Street
Granville Square (600 Granville Street)
PrincewaterhouseCoopers Place (250 Howe Street)
700 West Pender Street
750 West Pender
Cannacord Genuity Place (609 Granville Street)
777 Dunsmuir Street
701 West Georgia Street
TD Tower (700 West Georgia Street)
HSBC Building
The Station (601 Cordova Street)
The value of the deal with OPB and WSIB was not disclosed, but it is likely well over the billion dollar range.
Just before Christmas, TransLink announced that it had closed a $440-million deal to sell its 13.8-acre decommissioned Oakridge bus depot, which will be redeveloped with 1,200 residential units.
Written by
Kenneth Chan
National Features Editor at Daily Hive, the evolution of Vancity Buzz. He covers stories pertaining to local architecture, urban issues, politics, business, retail, economic development, transportation, infrastructure, and anything else that makes a difference in the lives of Canadians. Kenneth is also a Co-Founder of New Year's Eve Vancouver. Connect with him at kenneth[at]dailyhive.com
https://striverecruitment.ca/wp-content/uploads/pacific-centre-vancouver.jpg
555
1000
webadmin
https://striverecruitment.ca/wp-content/uploads/Strive-Logo-Full.png
webadmin
2017-01-23 20:10:25
2023-08-28 15:42:11
Cadillac Fairview sells half of its Vancouver properties, including Pacific Centre